KYOCERA Receives Mexico's Highest Environmental Award for Third Consecutive Year
TIJUANA, MÈXICO
– Kyocera has been awarded Mexico's highest honor for environmental protection — the national "Recognition of Environmental Excellence" award — for the third consecutive year. Presented by Mexico's Federal Environmental Protection Agency (PROFEPA), the award recognizes state-of-the-art environmental compliance practices at Kyocera's manufacturing facilities in Tijuana, Baja California, especially the reduction of energy and water consumption. Kyocera was one of 58 companies in Mexico to receive the "Excellence" award, and one of just seven to receive the award for three consecutive years.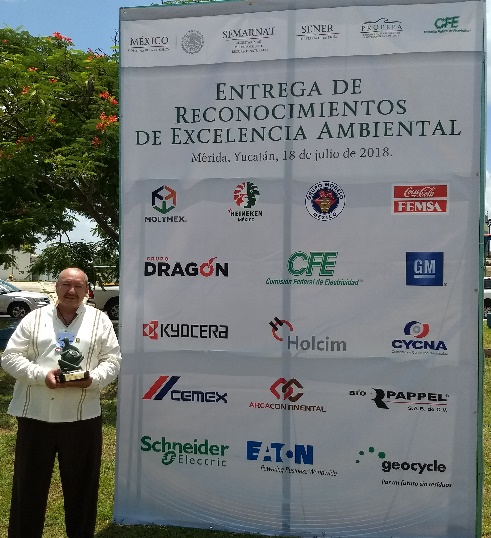 This award recognizes Kyocera's ongoing environment programs in multiple areas including environmental management systems, social participation, education, emergency preparedness, and emergency response. Kyocera strives to increase water-use efficiency at its Tijuana facilities each year as well.
Yucatan Governor Rolando Zapata Bello and other dignitaries recognized award recipients at a ceremony in Merida, Yucatan, Mexico last month commending the companies for their commitment to environmental preservation and continuous improvement in resource conservation efforts.
Kyocera was also recognized this year as an enterprise leader in Corporate Social Responsibility (CSR) for its environment-preservation efforts by the Maquiladora Association (INDEX), Mexico's main maquiladora trade association.
With the corporate motto "Respect the Divine and Love People," the entire Kyocera Group is committed to environmental management and sustainability. Kyocera has implemented numerous programs in its facilities worldwide to reduce its environmental footprint while also developing eco-friendly products and packaging — including pollution-reducing engine components, solar energy systems, high-efficiency fuel cells, and document equipment designed with fewer disposable parts.
San Diego-based Kyocera International, Inc. has received environmental honors from the City of San Diego for 18 consecutive years in honor of its recycling and other environmental efforts. In addition, global parent Kyocera Corporation of Kyoto, Japan has received eight consecutive Japanese Environment Minister's Awards for ongoing efforts to operate in harmony with our planet's fragile ecosystems. More information on Kyocera's global environmental activities can be found here.
Kyocera Corporation (TOKYO:6971) (http://global.kyocera.com/), the parent and global headquarters of the Kyocera Group, was founded in 1959 as a producer of fine ceramics (also known as "advanced ceramics"). By combining these engineered materials with metals and integrating them with other technologies, Kyocera has become a leading supplier of semiconductor packages, industrial and automotive components, electronic devices, solar power generating systems, printers, copiers and mobile phones. During the year ended March 31, 2018, the company's consolidated net sales totaled 1.58 trillion yen (approx. USD14.9 billion). Kyocera appears on the "Top 100 Global Innovators" list by Clarivate Analytics and is ranked #612 on Forbes magazine's 2018 "Global 2000" list of the world's largest publicly traded companies.