KYOCERA Named Among Derwent Top 100 Global Innovators by Clarivate Analytics
Company's patent success rate, global reach recognized for fifth consecutive year
Kyocera Corporation (President: Hideo Tanimoto) was recognized as one of the Derwent Top 100 Global Innovators 2018-19 by Clarivate Analytics, a Philadelphia-based global information solutions provider focusing on intellectual property and the sciences. Kyocera's patent success rate and global reach were identified as outstanding, marking the fifth consecutive for Kyocera to receive this recognition. The award was presented at Kyocera headquarters in Kyoto, Japan.
The Derwent Top 100 Global Innovators awards have been presented annually since 2011 to recognize leading enterprises and research institutions for success in generating innovation. Honorees are selected by Clarivate Analytics after an analysis of intellectual property (IP) and patents using Clarivate's original methodology.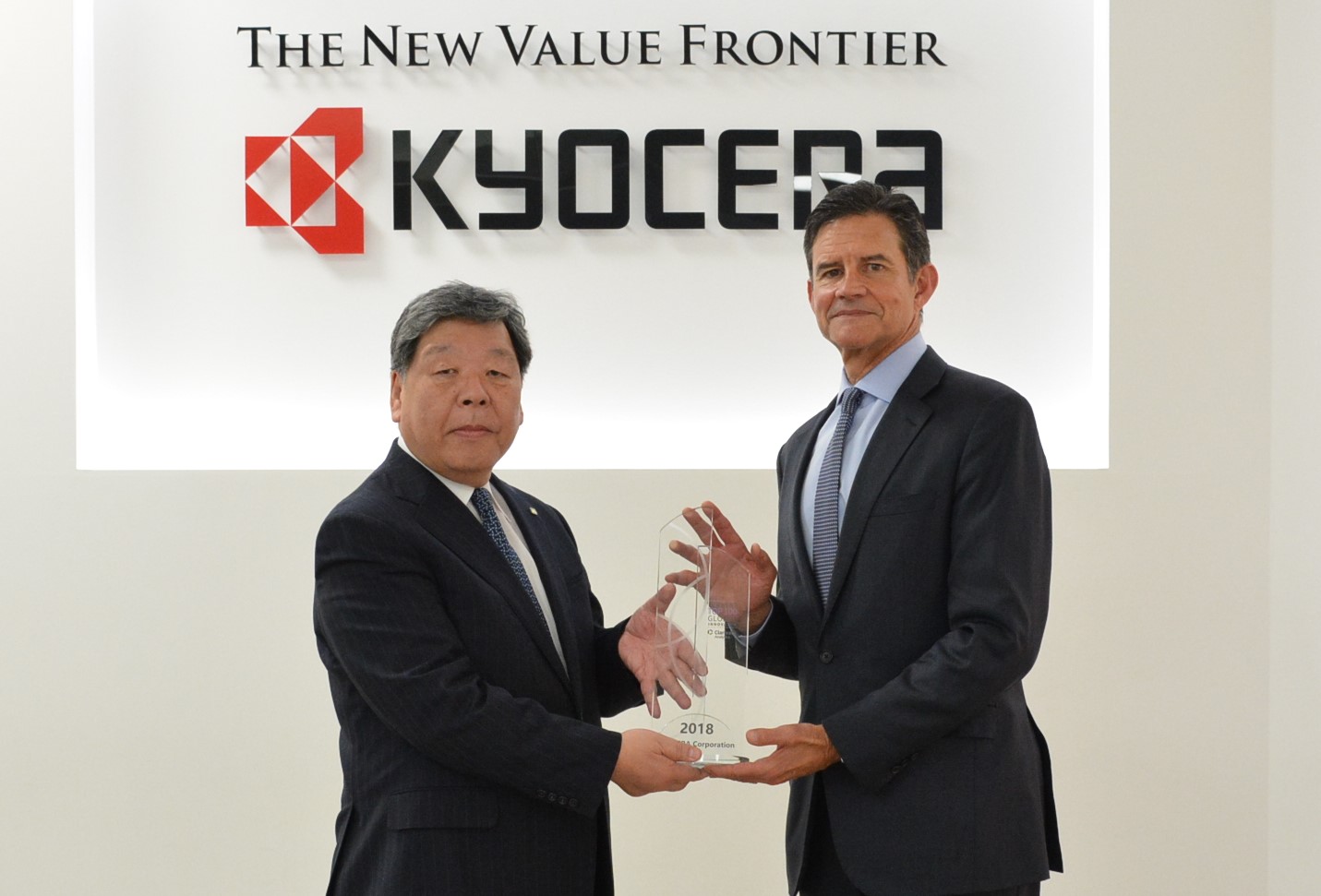 Candidates are evaluated by patent and citation data across four main criteria: "Volume," "Success," "Globalization," and "Influence." Among these, Kyocera's "Success" and "Globalization" led to its recognition among the top innovators.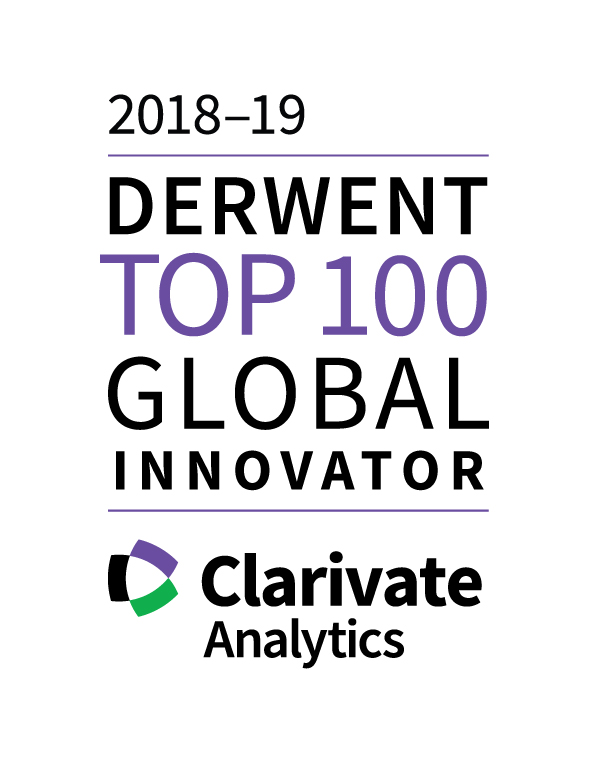 Kyocera's commitment to innovation has resulted in more than 18,000 patents* worldwide to date, as well as a deep respect for the IP rights of other companies and institutions. The company has established patent offices in Japan, the U.S., China, and Germany to maximize IP development and protection in its four principal business areas, which include the information & communications, automotive, environment & energy, and medical & healthcare markets. In May 2018, Kyocera launched its IP website to showcase its intellectual property and licensing programs. The site details various proprietary technologies cultivated through decades of research and development including "V2X" (vehicle to everything) solutions; a new silver alloy that maintains the original shine of silver jewelry over time; and a new coating technology that extends the life expectancy of artificial hip joints, to name a few recent innovations.

Kyocera also recently received two awards for mobile phone designs: the "2018 Good Design Award" honoring the Kyocera "BASIO® 3" smartphone for seniors; and the prestigious iF DESIGN AWARD 2019 for the Kyocera DuraForce PRO 2 — the only rugged 4G LTE smartphone with a Super Wide View 4K Action Camera and virtually scratchproof Sapphire Shield Display.
Methodology of Derwent Top 100 Global Innovators
Clarivate Analytics surveys four main criteria to select the Derwent Top 100 Global Innovators. Details are available at: https://clarivate.com/top100innovators/methodology/
* Based on research by Kyocera (as of February, 2019)
Kyocera Corporation (TOKYO:6971) (https://global.kyocera.com/), the parent and global headquarters of the Kyocera Group, was founded in 1959 as a producer of fine ceramics (also known as "advanced ceramics"). By combining these engineered materials with metals and integrating them with other technologies, Kyocera has become a leading supplier of semiconductor packages, industrial and automotive components, electronic devices, solar power generating systems, printers, copiers and mobile phones. During the year ended March 31, 2018, the company's consolidated net sales totaled 1.58 trillion yen (approx. USD14.9 billion). Kyocera appears on the "Derwent Top 100 Global Innovators" list by Clarivate Analytics and is ranked #612 on Forbes magazine's 2018 "Global 2000" list of the world's largest publicly traded companies.
Contact:

KYOCERA Corporation (Japan)
Corporate Communications
Natsuki Doi, +81-(0)75-604-3416
Fax: +81-(0)75-604-3516

webmaster.pressgl@kyocera.jp