KYOCERA Teams With VIBES Modular for Interchangable, Cost Efficient DuraForce PRO 2 Accessories
Exclusive multipurpose case snaps on rugged DuraForce PRO 2 enabling easy sharing of accessories including extended battery packs, smart laser measuring tools, Bluetooth conference speakers and more
30 April 2019
Corporate
Smartphones & Feature Phones
SAN DIEGO – April 30, 2019 – Kyocera International, Inc., the leader in rugged mobile solutions, announced today that it has partnered with VIBES Modular to create a custom case enabling interchangeable accessories for the award-winning DuraForce PRO 2 — Kyocera's rugged 4G LTE smartphone with Super Wide View 4K Action Camera available with Verizon Wireless, AT&T, and FirstNet. The new accessory line and custom case for DuraForce PRO 2 will launch at the beginning of May 2019 with more useful, hot-swappable accessories/tools to be added in the coming months.
With the VIBES Modular System, and the universal mount designed into the case specifically for DuraForce PRO 2, accessories easily clip to the back of the device enabling quick swapping and easy access to a variety of useful device tools. The universal case allows for accessory sharing with any other DuraForce PRO 2 device equipped with the same multipurpose case, without the need for tools or additional hardware. All accessories using this VIBES system use their own power supply and won't deplete the smartphone's battery.
"This innovative partnership with VIBES Modular opens up an entire ecosystem of useful, cost efficient accessories for businesses as well as consumers," said Vipul Dalal, Deputy General Manager, Business Development, of Kyocera International, Inc.'s Communications Equipment Group. "The rugged DuraForce PRO 2 was designed to withstand the rigors of construction sites and other potentially hazardous environments. These new accessories add even more value and longevity for enterprise customers since accessories can be easily shared within a workforce and used on future mobile devices with just the cost of a new VIBES Modular case."
The new line of interchangeable VIBES Modular accessories include: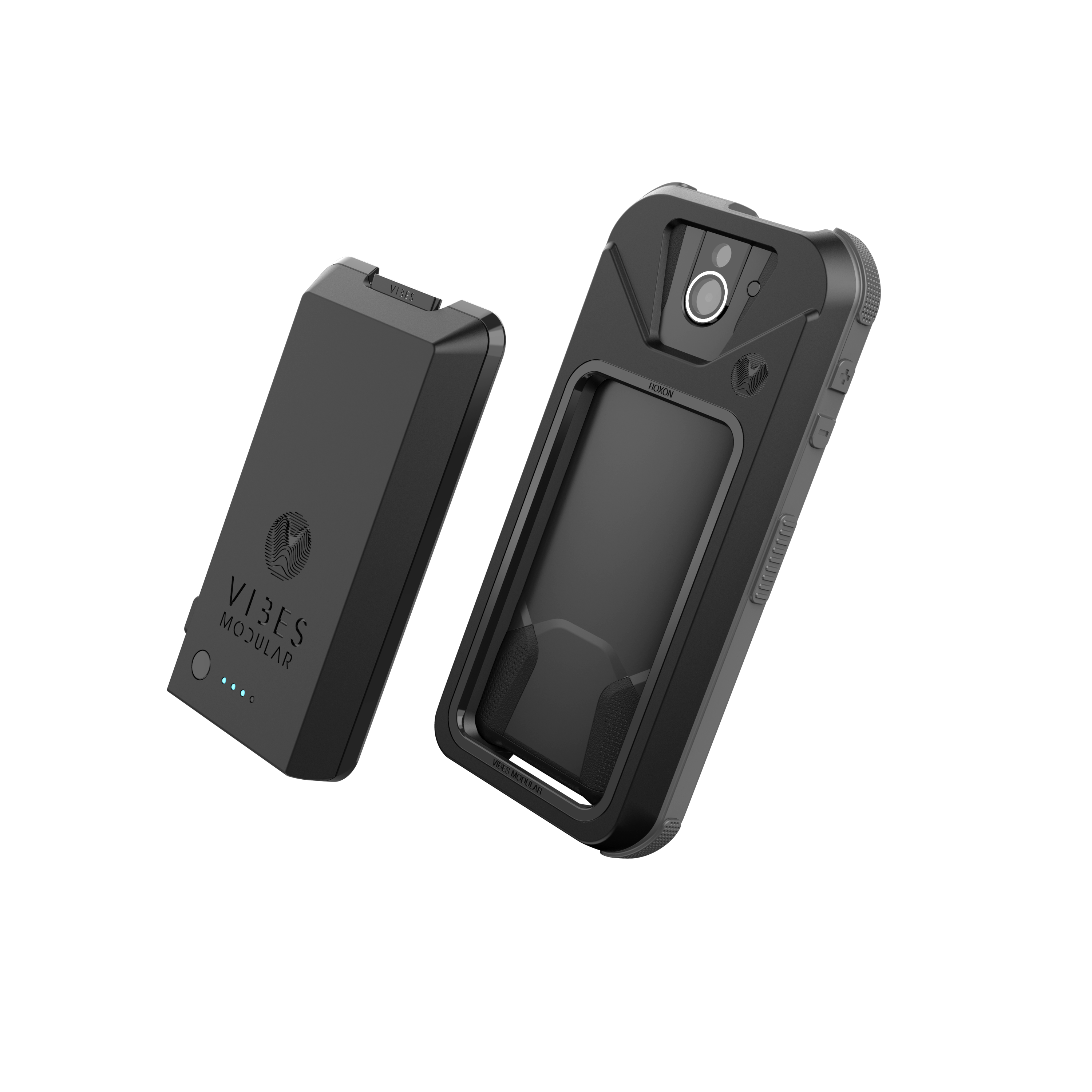 Extended Battery Packs: Thin, lightweight, rechargeable battery packs provide continuous hours of use and are "hot swappable", allowing users to clip the battery on during use without dropping a call or data. Options include: 3000mAh & 5800mAh battery packs with wired charging connection, both IP4X dustproof; and a 5800mAh battery pack with Wireless Induction charging, which is IP65 dustproof and water resistant.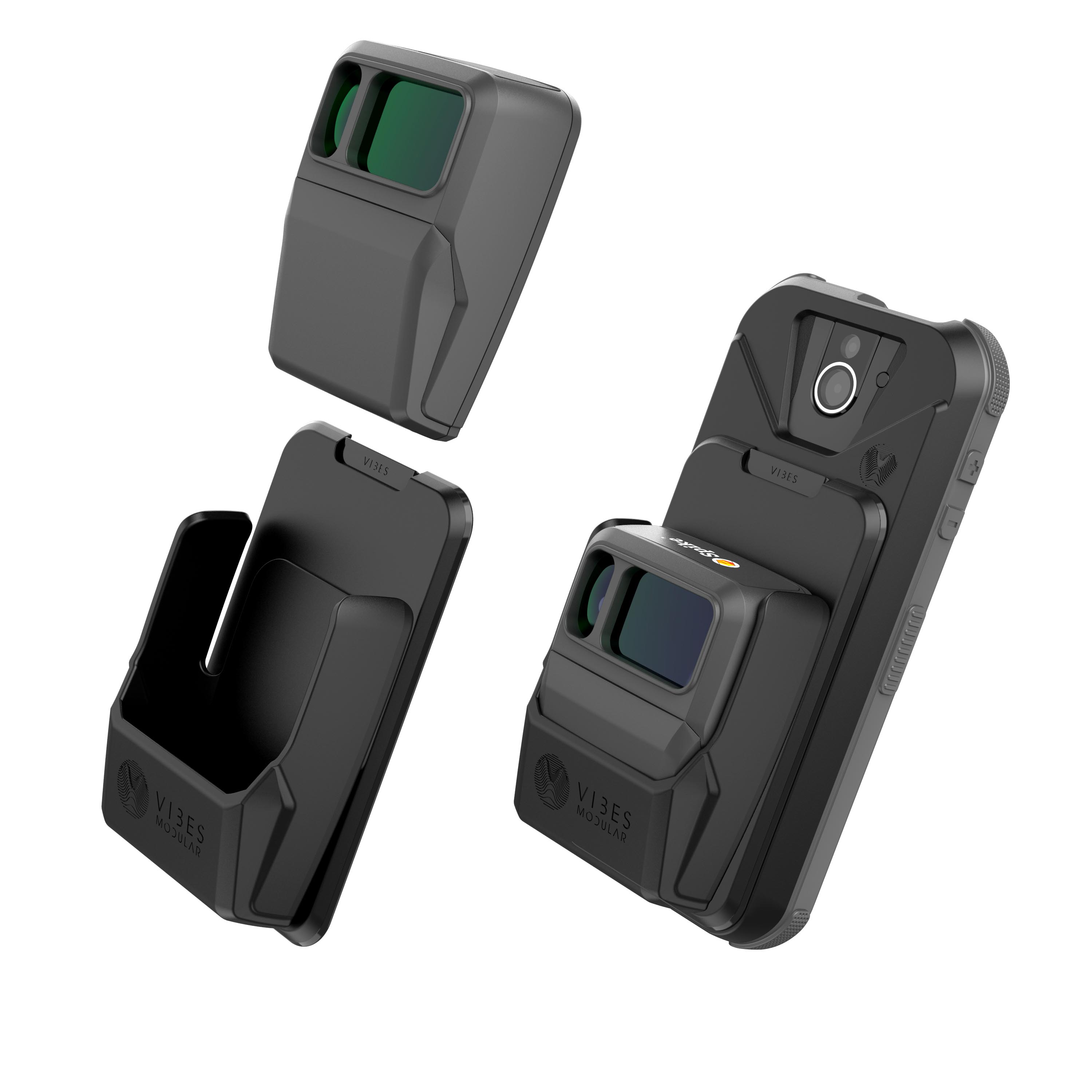 Spike® Smart Laser Measuring Tool: With a simple picture, this mobile tool allows anyone to capture real-time measurements of virtually any object in minutes including exterior walls, windows and structures, and without the need for ladders, bucket trucks or additional labor. Ideal for hard-to-reach locations and distances, the solution includes a Spike® mobile app and Spike® Cloud in addition to the snap-on accessory.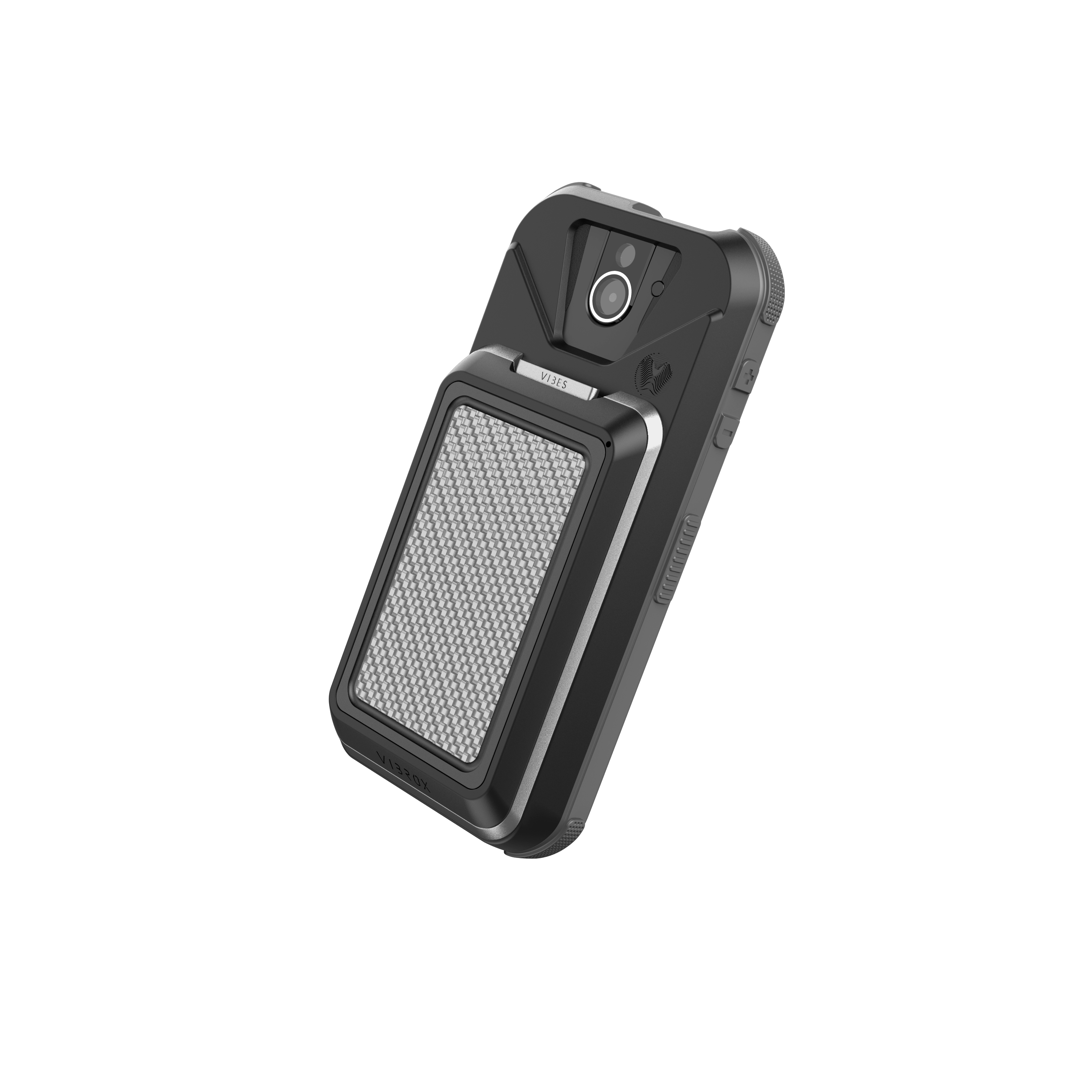 Bluetooth Conference Speaker: With patent-pending vibration powered sound technology, an indoor and outdoor equalizer, and 15mm custom digital signal processors, the snap-on speaker provides pristine audio clarity in loud work environments. It's waterproof IPX7, lightweight and made of carbon fiber for durability. A built-in microphone supports two-way calling, with a pause and play feature on the speaker plus 10-12 hours listening time and 120 hours standby time. The snap-on speaker works independent of the phone, freeing up the DuraForce PRO 2 for other tasks while users conduct conference calls.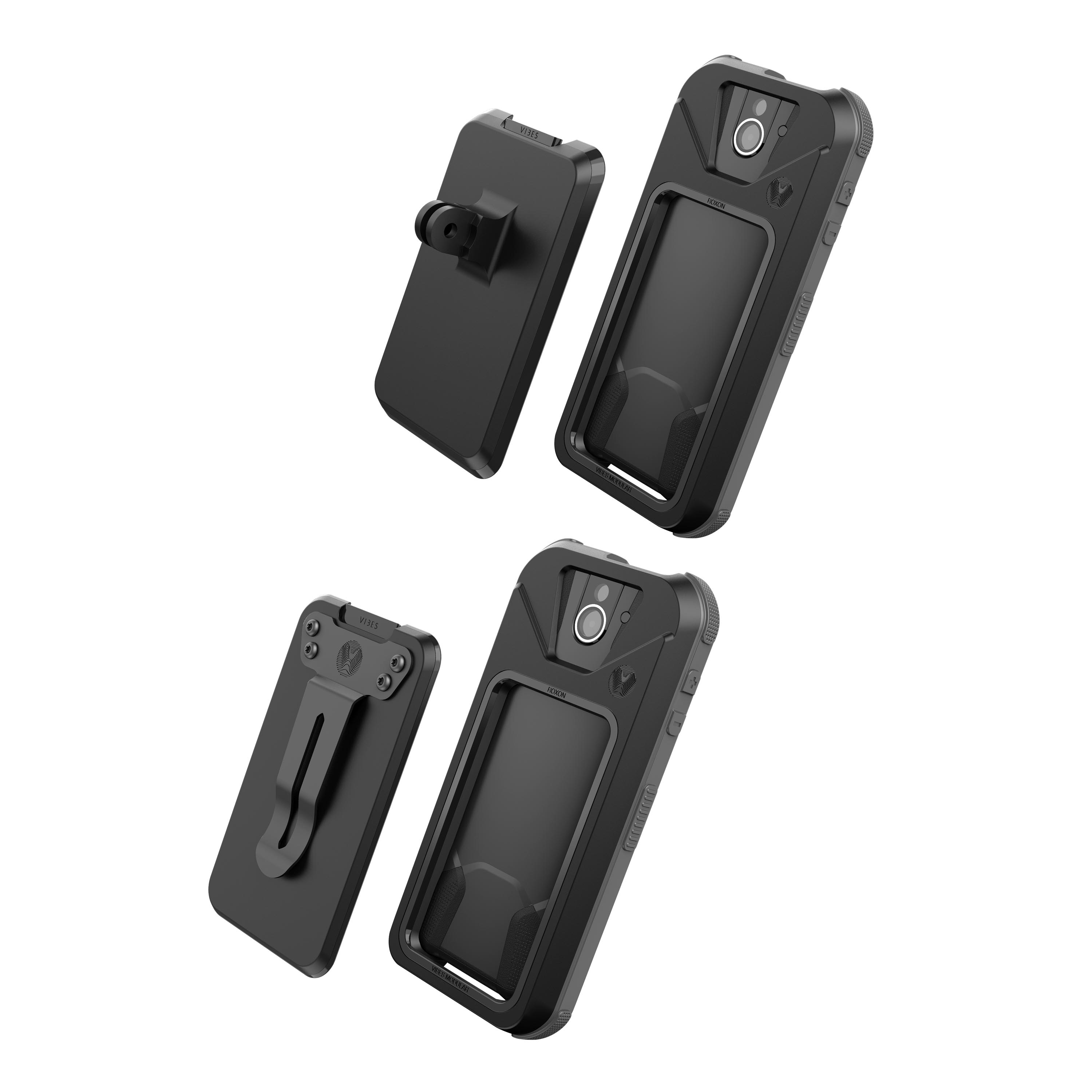 Action Camera Mount, Pocket Clip & Plate: The special universal action camera mount turns DuraForce PRO 2 in to an action camera accessory. Made of sturdy ABS resin to withstand extreme impact, the mount can be used on a bike, motorcycle, helmet, tripod, vehicle dash or window. A wearable clip makes it easy to fasten the device to a vest, shirt or belt. Also, a sturdy ABS plastic blank plate is available to cover the recess in the Vibes Modular Case when no additional accessory is connected, allowing users to have removable, flexible, and personalized accessories on the phone case, i.e. pop up socket, finger holder or magnetic plate.
Kyocera's fifth in its rugged line of devices, DuraForce PRO 2 boasts IP68 waterproof and dust proof certification (to 2m/6.5ft deep for up to 30 minutes) and Military Standard 810G for protection against shock, vibration, temperature extremes, blowing rain, low pressure, solar radiation, salt fog, humidity, immersion, temperature shock and icing/freezing rain. Engineered with Japanese precision and quality, the device is certified non-incendive Class I, Division 2 (Group A-D, T4), making it ideal for plant and field operations needing durability and safety where concentrations of flammable gas, vapors or mists are not normally present in explosive concentrations but may exist. DuraForce PRO 2 supports HD Voice and Wi-Fi calling and is Android Enterprise Recommended, making it a reliable enterprise solution. Its enhanced security features include a biometric fingerprint sensor built into the power button, Secure Device Encryption with FIPS 140-2 and more.
VIBES Modular (www.vibesmodular.com) is recognized as the leading design and engineering firm for premium products that deliver unprecedented modular systems for smartphones with their ROXON ™ modular smartphone system, including multiple interchangeable lifestyle/work products for different mobile phones. Founded in 2014, Vibes Modular is dedicated to using the highest quality materials and engineering to bring cutting edge, premium audio and power products to market. Vibes Modular is committed to developing future products that offer sustainability for an ever-changing market.
Kyocera International, Inc.'s Communications Equipment Group (CEG) is responsible for Kyocera wireless devices in the Americas. Designed with durability, dependability, and long-term value as priorities, Kyocera mobile phones help people feel comfortable with new technology and use it to connect, perform and outsmart life and work challenges. At the heart of Kyocera's products is a belief that one size doesn't fit all and that people should do more with phones instead of being confused by them or having to alter their lifestyles to accommodate them. Kyocera strives to offer rugged devices as an integral part of a total solution offering for a wide range of industries such as public safety, transportation and construction. Joined by an ever-growing list of application and accessory partners, Kyocera provides tremendous flexibility in creating efficient and economic telecommunication solutions for varied enterprise needs. For more information, follow the company at facebook.com/kyoceramobile, linkedin.com/company/kyoceramobile, Instagram.com/kyoceramobile, and twitter.com/kyoceramobile.
Kyocera Corporation (tokyo:6971) (https://global.kyocera.com/), the parent and global headquarters of the Kyocera Group, was founded in 1959 as a producer of fine ceramics (also known as "advanced ceramics"). By combining these engineered materials with metals and integrating them with other technologies, Kyocera has become a leading supplier of semiconductor packages, industrial and automotive components, electronic devices, solar power generating systems, printers, copiers and mobile phones. During the year ended March 31, 2019, the company's consolidated sales revenue totaled 1.62 trillion yen (approx. USD14.6 billion). Kyocera appears on the "Derwent Top 100 Global Innovators" list by Clarivate Analytics and is ranked #612 on Forbes magazine's 2018 "Global 2000" list of the world's largest publicly traded companies.
© 2019 Kyocera International, Inc.. All rights reserved. Kyocera is a registered trademark of Kyocera Corporation. LTE is a trademark of ETSI. All other marks are properties of their respective owners.