KYOCERA Introduces 230V Hot-Surface Igniter for Industrial and Residential Gas Furnaces and Boilers
Product incorporates Kyocera's proprietary silicon nitride technology
18 May 2020
Corporate
Industrial Ceramics
San Diego – May 18, 2020 – Kyocera Corporation, the world leader in fine ceramic technology, announced today it has developed a silicon nitride (SN) hot-surface igniter with exceptional endurance and very stable ignition performance for 230-volt industrial or residential gas furnaces, water heaters and boilers.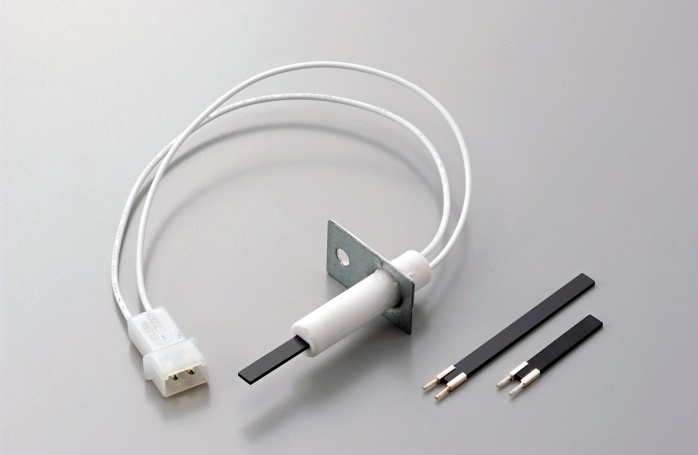 Click here for video showing elapsed time to reach 1,000°C
Kyocera's SN Igniter is widely regarded as one of the most robust in the world, and is commonly used in North American 120-volt residential gas furnaces and water heaters. To support a broader base of customers, Kyocera has now extended its product range to support 230-volt systems as well. Kyocera's SN igniters require no special high-voltage protection for either systems or modules. This allows flexible components selection and contributes to cost savings on the total system.
Kyocera's SN Igniter heats in just seconds to more than 1000 degrees Celsius (1,832°F) and smoothly ignites natural gas. Compared to spark-type igniters, Kyocera's SN Igniter has a wider hot surface, more stable ignition performance, and unparalleled reliability. Over its lifetime, the SN Igniter shows a very small change in electrical resistance, while the high-strength silicon nitride ceramic provides high resilience to resist mechanical failures. With such high reliability and robust performance, the Kyocera SN Igniter gives customers easier control over their heating system and greater peace of mind, knowing that the igniter will offer uninterrupted service for years to come.
About KYOCERA
Kyocera Corporation (TOKYO:6971, https://global.kyocera.com/), the parent and global headquarters of the Kyocera Group, was founded in 1959 as a producer of fine ceramics (also known as "advanced ceramics"). By combining these engineered materials with metals and integrating them with other technologies, Kyocera has become a leading supplier of industrial and automotive components, semiconductor packages, electronic devices, smart energy systems, printers, copiers, and mobile phones. During the year ended March 31, 2020, the company's consolidated sales revenue totaled 1.6 trillion yen (approx. US$14.7 billion). Kyocera is ranked #655 on Forbes magazine's 2019 "Global 2000" list of the world's largest publicly traded companies.