KYOCERA Unveils Low-Resistivity Zirconia Needle, Proven Ceramics-Based Medical Technologies at MD&M West Expo
12 April 2022
Corporate
Industrial Ceramics
April 12, 2022
Anaheim, Calif. – Kyocera, a worldwide leader in ceramics solutions, will be unveiling its new low-resistivity zirconia needle at the MD&M West Medical Expo in Anaheim, Calif., April 12-14, 2022, the world's largest annual convention for medical product designers and manufacturers. Kyocera's ceramics, developed over the last 60+ years, provide a highly durable, long-lasting, non-reactive material to help improve everything from surgical tools and hip implants to kidney dialysis and CT Scan machines. Innovative ceramic medical solutions will be on display throughout Kyocera's Booth #2272, including:

Introducing Low-Resistivity Zirconia Needle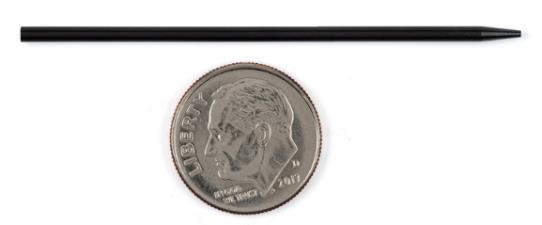 Kyocera's durable, 100% inert and reusable low-resistivity zirconia needles offer highly accurate liquid level sensing for the latest in-vitro diagnostics and flow cytometry, maximizing high performance liquid chromatography (HPLC) equipment. The new low-resistivity zirconia needle offers excellent mechanical strength, chemical and wear resistance with low friction for a longer useful life compared to stainless steel. Its thinner wall thickness and small precise hole (0.1 to 2.5 (+/-0.002) mm) with precise ID, less carry over, and smaller inner surface roughness (Ra0.05μm~) help ensure dimensional accuracy for in-vitro procedures including hemostatis, urinalysis, immunoassay analyzers, clinical chemistry analysis, and molecular diagnostics.

Rapid Prototypes with Ceramic Additive Manufacturing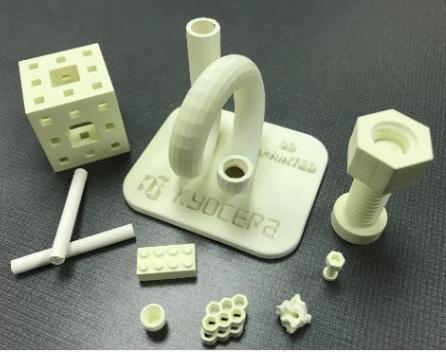 Kyocera continues its ceramic additive manufacturing customized 3D printing service for cost-effective prototypes of new medical device designs. The Company's highly experienced engineers consult on each new project and devise the most cost-effective method for a 3D printed prototype of new medical device designs. With that consultation and 3D printing using zirconia and alumina, Kyocera can produce virtually any kind of customized prototype in 1-2 weeks. Kyocera's ceramics offer scratch resistance, higher rigidity, temperature resistance, longer lifetime, high-voltage insulation, lighter weight, and superior thermal management, providing an overall lower cost of ownership. 3D capabilities include:

• Shapes: Curved, Square, Angled, Sharp edges, Angled holes, Negative draft, Threads, Textures, Tiny holes
• Materials: Zirconia, Alumina
• Size: 200 x 105 x 40 mm
• Tolerance: +/-0.050 mm (as-fired)
• Wall Thickness: 0.25 – 10 mm
• Interlocking Assembly
• Smooth Surface

Kyocera's Fine Ceramics can be found in solutions for kidney dialysis machines; radiation therapy machines for cancer treatment; genetic sequencing; blood separators; X-ray machines, PET, MRI and CT Scan machines; pacemakers and cardiac monitors; neuromodulation devices and RF surgical instruments; drug testing and orthopedic joint replacement systems. Many of these products will be on display at Kyocera's MDM West booth #2272 highlighting the latest ceramics technologies to help improve the medical field.

Click to learn more about Kyocera's medical solutions. To schedule a dedicated booth appointment, please email fcsales@kyocera.com.

About KYOCERA

Kyocera Corporation (TOKYO: 6971), the parent and global headquarters of the Kyocera Group, was founded in 1959 as a producer of fine ceramics (also known as "advanced ceramics"). By combining these engineered materials with metals and integrating them with other technologies, Kyocera has become a leading supplier of industrial and automotive components, semiconductor packages, electronic devices, smart energy systems, printers, copiers, and mobile phones. During the year ended March 31, 2021, the company's consolidated sales revenue totaled 1.5 trillion yen (approx. US$13.8 billion). Kyocera is ranked #603 on Forbes magazine's 2021 "Global 2000" list of the world's largest publicly traded companies, and has appeared on The Wall Street Journal's list of "The World's 100 Most Sustainably Managed Companies."
© 2022 KYOCERA International, Inc., San Diego, California, USA. All rights reserved.