Kyocera Plans to Reduce Greenhouse Gas 46%, Increase Renewable Energy Use 20x by 2031
Company's Environmental Efforts Recognized by SBT Initiative
Kyocera Corporation (President: Hideo Tanimoto) today announced that the Kyocera Group's new target to reduce greenhouse gas (GHG) emissions by fiscal year 2031 has received another official endorsement from the Science Based Targets (SBT) initiative. Kyocera's new target is to reduce GHG emissions by 46% from fiscal year 2020 levels, a further improvement over the original target of 30% from fiscal year 2014 levels. The Company is also targeting a 20x increase in renewable energy adoption by FY2031 in its production activities (compared to FY2014) and aims to be carbon neutral by 2050 in accordance with the Paris Agreement.

SBT is an international initiative established to support the Paris Agreement's goal of limiting global warming to "well-below" 2°C above pre-industrial levels. The initiative involves collaboration among the CDP (an international organization encouraging companies to disclose information regarding climate change), the United Nations Global Compact (UNGC), the World Resources Institute (WRI), and the World Wide Fund for Nature (WWF).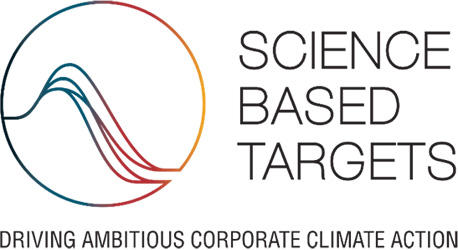 In 2018, as part of its longstanding program, the Kyocera Group set a goal to reduce GHG emissions by 30% by FY2031 (compared to FY2014 levels), having aimed to limit global warming to well below 2°C above pre-industrial levels, and received an endorsement from the SBT initiative in 2019. Following a variety of successful environmental conservation efforts, Kyocera has increased its GHG reduction target and added an aggressive renewable energy target.

Kyocera will continue to work toward a sustainable, decarbonized society through a combination of conventional and new innovative approaches.

Kyocera Group's Long-Term Environmental Targets


Scope* 1 and 2 GHG emissions: Reduce 46% by FY2031 compared to FY2020 levels (SBT recognized)
Scope* 1, 2 and 3 GHG emissions: Reduce 46% by FY2031 compared to FY2020 levels (SBT recognized)
Renewable energy adoption: Increase 20x by FY2031 from FY2014 levels
Carbon Neutral by 2050 in support of Paris Agreement
* Scope 1: Direct emission associated with fuel consumption and production processes
* Scope 2: Indirect emission associated with consumption of power or heat purchased from outside
* Scope 3: Indirect emission other than Scope 1 or 2 (including procurement of raw materials, transport, use and disposal of products, as well as employee commuting and business trips)
About KYOCERA
Kyocera Corporation
(TOKYO:6971, https://global.kyocera.com/ , the parent and global headquarters of the Kyocera Group, was founded in 1959 as a producer of fine ceramics (also known as "advanced ceramics"). By combining these engineered materials with metals and integrating them with other technologies, Kyocera has become a leading supplier of industrial and automotive components, semiconductor packages, electronic devices, smart energy systems, printers, copiers, and mobile phones. During the yea r ended Mar ch 31, 2022 , the company's consolidated sales revenue totaled 1.8 t rillion yen (approx. US 15.1 billion). Kyocera is ranked #6 65 on Forbes magazine's 202 2 "Global 2000" list of the world's largest publicly traded companies, and has been named by The Wall Street Journal among "The World's 100 Most Sustainably Managed Companies."
Media Contact

KYOCERA Corporation (Japan), Corporate Communications
Kenichi Hara, Tel: +81-(0)75-604-3416 Fax: +81-(0)75-604-3516


webmaster.pressgl@kyocera.jp