Kyocera Receives "Partner of the Year" Award from DENSO
21 June 2022
Corporate
Liquid Crystal Displays
PLYMOUTH, MICH. – June 21, 2022 – Kyocera, the world leader in Fine Ceramics, announced today that it has been recognized with a Sustainability Leader Award from DENSO, a leading mobility supplier, at DENSO's annual North America Business Partner Convention.
At the Suburban Collection Showplace outside Detroit, DENSO brought together more than 150 supplier representatives from across North America on May 25 to recognize 15 exceptional business partners.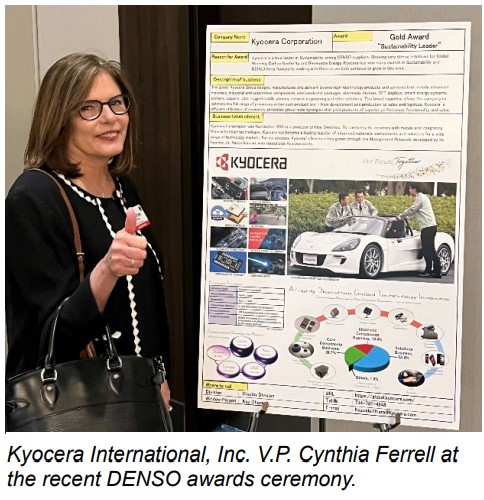 "Kyocera is honored to support DENSO in our mutual commitment to make vehicles safer, smarter, environmentally cleaner, and more comfortable," said Cynthia Ferrell, Kyocera International, Inc.'s vice president of Automotive, Display, Optical and Consumer Products. "This Sustainability Leader Award is especially meaningful to us coming from DENSO, a company that has won respect and admiration for its own sustainable business practices worldwide."

DENSO's Business Partner of the Year Awards are given to companies that are driven to advance mobility while demonstrating outstanding performance and a deep commitment to quality. Kyocera, which manufactures a wide range of automotive, electronic, and semiconductor components, was honored by DENSO specifically for delivering head-up displays (HUDs) ― digital devices that use high-brightness LCD technology to project data onto a vehicle's windshield, so drivers can monitor vehicle speed and navigation while keeping eyes directly on the road ahead.

"Despite the challenges of the previous fiscal year, our supplier partners were with us every step of the way, helping our teams problem solve and deliver for our customers. We thank them," said Mike Winkler, vice president of the North America Purchasing Group at DENSO. "Looking ahead, they'll continue this and also support our pursuit of DENSO's Two Great Causes: Green – achieving carbon neutrality by 2035 – and Peace of Mind – creating a safe and seamless world for all."

About Kyocera
Kyocera Corporation (TOKYO:6971, https://global.kyocera.com/), the parent and global headquarters of the Kyocera Group, was founded in 1959 as a producer of fine ceramics (also known as "advanced ceramics"). By combining these engineered materials with metals and integrating them with other technologies, Kyocera has become a leading supplier of industrial and automotive components, semiconductor packages, electronic devices, smart energy systems, printers, copiers, and mobile phones. During the year ended March 31, 2022, the company's consolidated sales revenue totaled 1.8 trillion yen (approx. US$15.1 billion). Kyocera is ranked #665 on Forbes magazine's 2022 "Global 2000" list of the world's largest publicly traded companies, and has been named among "The World's 100 Most Sustainably Managed Companies" by The Wall Street Journal.

About DENSO
DENSO is a $45.1 billion global mobility supplier that develops advanced technology and components for nearly every vehicle make and model on the road today. With manufacturing at its core, DENSO invests in its 198 facilities to produce electrification system, powertrain system, thermal system, mobility electronics, & advanced devices, to create jobs that directly change how the world moves. The company's 167,000+ employees are paving the way to a mobility future that improves lives, eliminates traffic accidents, and preserves the environment. Globally headquartered in Kariya, Japan, DENSO spent 9.0 percent of its global consolidated sales on research and development in the fiscal year ending March 31, 2022. For more information about global DENSO, visit https://www.denso.com/global/en/.
In North America, DENSO is headquartered in Southfield, Michigan, and employs 27,000+ engineers, researchers, and skilled workers across 51 sites in the U.S, Canada and Mexico. In the United States alone, DENSO employs 17,700+ employees across 14 states (and the District of Columbia) and 41 sites. In the fiscal year ending March 31, 2022, DENSO in North America generated $9.5 billion in consolidated sales. DENSO is committed to advancing diversity and inclusion inside the company and beyond – a principle that brings unique perspectives together, bolsters innovation, and pushes DENSO forward. Join us, and craft not only how the world moves, but also your career: densocareers.com. For more information, go to https://www.denso.com/us-ca/en/