Kyocera's Ceramic Knives: Upholding a 1,600-Year Tradition with Patented New Materials, Technologies
18 October 2022
Corporate
Kitchen Cutlery & Office Products
San Diego, Calif., October 18, 2022 - Kyocera Corporation (hereinafter, "Kyocera") was founded in 1959 by Kazuo Inamori in Kyoto as a manufacturer of fine ceramics under the name Kyoto Ceramic Co., Ltd. Kyoto is one of the world's foremost historical cities, having developed as a Japanese political, economic, and cultural center for more than 1000 years, from the founding of Heian-Kyo in 794 to the relocation of the capital to Tokyo in 1868.
It is said that knives were introduced to Japan in the fourth century. Kyoto was not only the capital of Japan, where culture, art, and crafts flourished, but its location, with easy access to quality iron, soil, whetstones, charcoal, and water, made it suitable for making knives. Therefore, Kyoto thrived as a blacksmith town and became known throughout Japan as a significant source of cutlery.
Though inspired by Kyoto's DNA — which nurtured the culture and technology of cutlery — Kyocera focused not on metals, but on the superior properties of engineered ceramics, including extreme hardness, lightness, and rust-resistance. A global pioneer in advanced ceramics since its founding, Kyocera began research and development in the early 1980s to make ceramic knives. After much trial and error, including learning traditional blade sharpening techniques in Gifu, another famed Japanese cutlery center, Kyocera produced and sold its first ceramic knife in 1984. Subsequently, Kyocera became one of the first companies in the world to successfully mass-produce zirconia ceramic knives.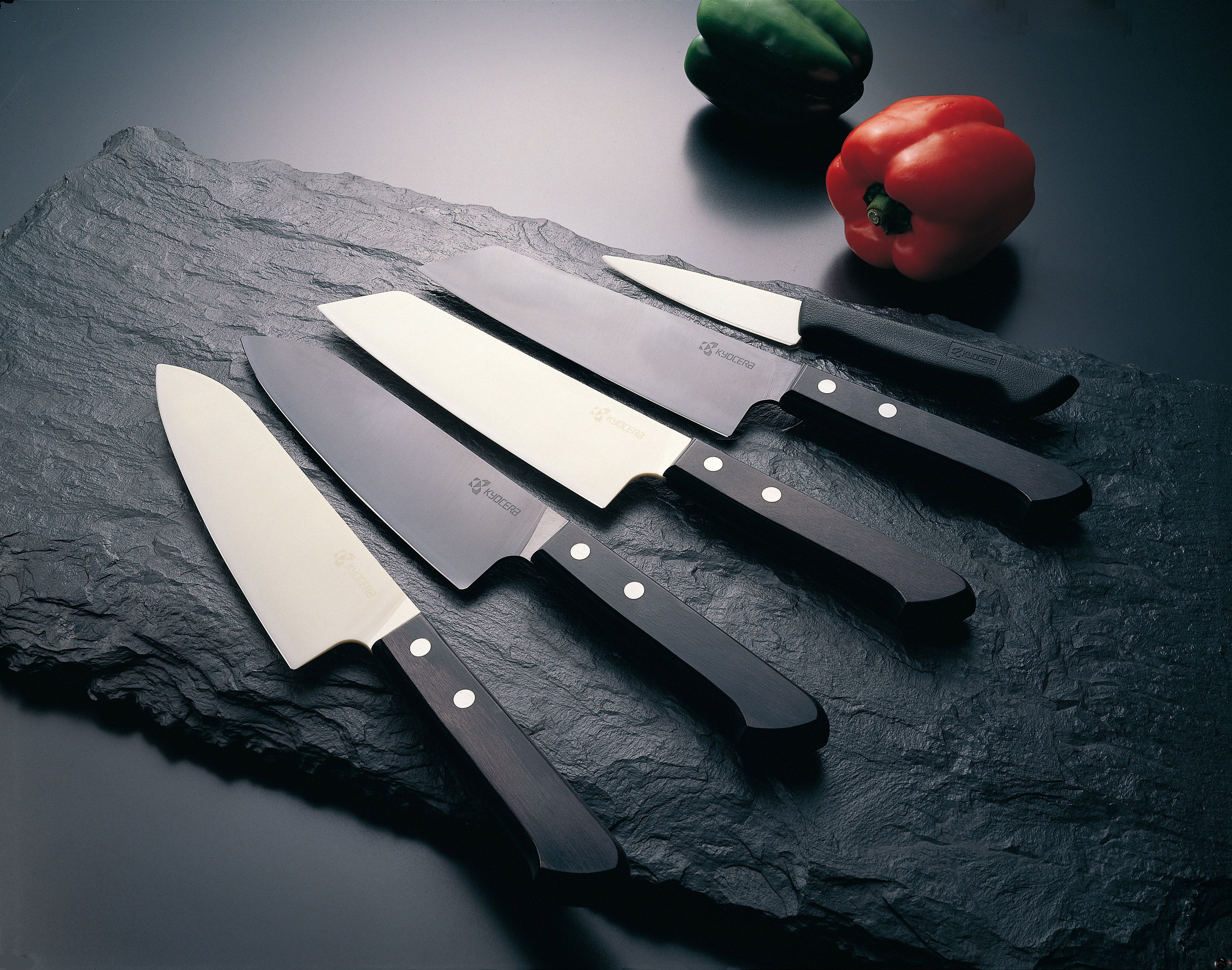 Kyocera's Ceramic Knives
As a specialist manufacturer, Kyocera has protected its ceramic knives with numerous intellectual property (IP) registrations relating to the knives' reliability, uniqueness, technological prowess, and quality. Kyocera has acquired more than 30 patents and utility models worldwide, including in Japan, the United States, Europe, and China. As a leading company in ceramic knives, Kyocera has contributed to the advancement and development of this field. For example, patent JP 2652020, filed in Japan in 1987, covered technology related to a method of sharpening the blades of ceramic cutting tools, which became a driving force for mass production. JP 3905062, filed in Japan in 2003, disclosed a unique rounded dimension to the tip of a blade which reduces chipping in the event the knife is dropped, improving both quality and safety. The distinctive rounded tip design has been used to identify Kyocera's ceramic knives for many years. Kyocera's combination of two types of ceramic material with different hardness levels, protected by JP 6151878 (filed in Japan in 2015), creates blades that stay sharper 2x longer than traditional ceramic blades, while still maintaining a resistance to chipping. This ensures the high quality of Kyocera's current topline products, the INNOVATIONblack® series. JP 6151878's invention is also patented in the United States, Europe, and China including US 10118302 B2.a
In addition to patents and utility models, Kyocera has accumulated its own manufacturing technologies by producing knives in-house, continuing to offer Made-In-Japan Quality Ceramic Knives at a price that is widely affordable.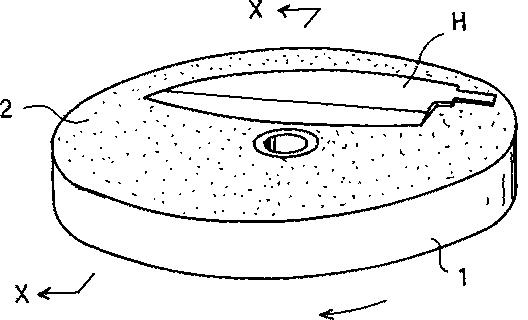 JP 2652020 Fig, 1
Grinding method for ceramic knife
Filed on August 31, 1987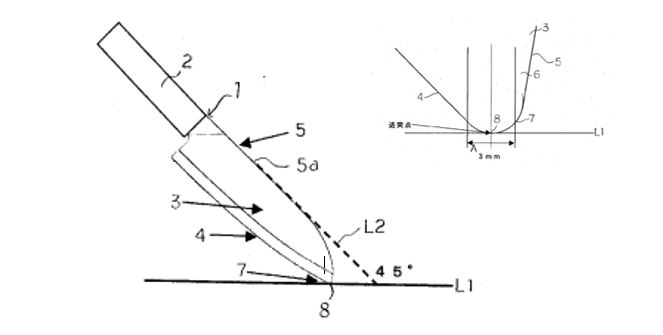 JP 3905062Fig, 1 & 2
Ceramic knife
Filed on June 6, 2003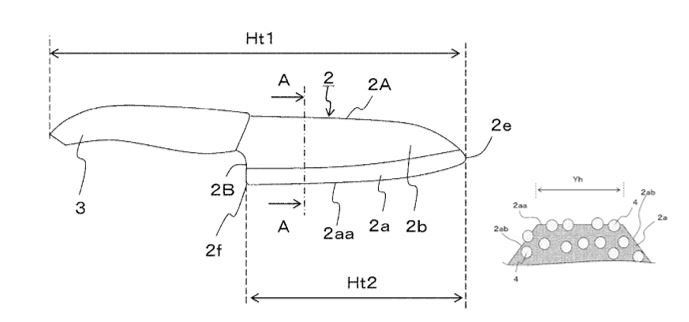 JP 6151878 Fig, 1 & 5B
Ceramic cutting tool
Filed on May 25, 2015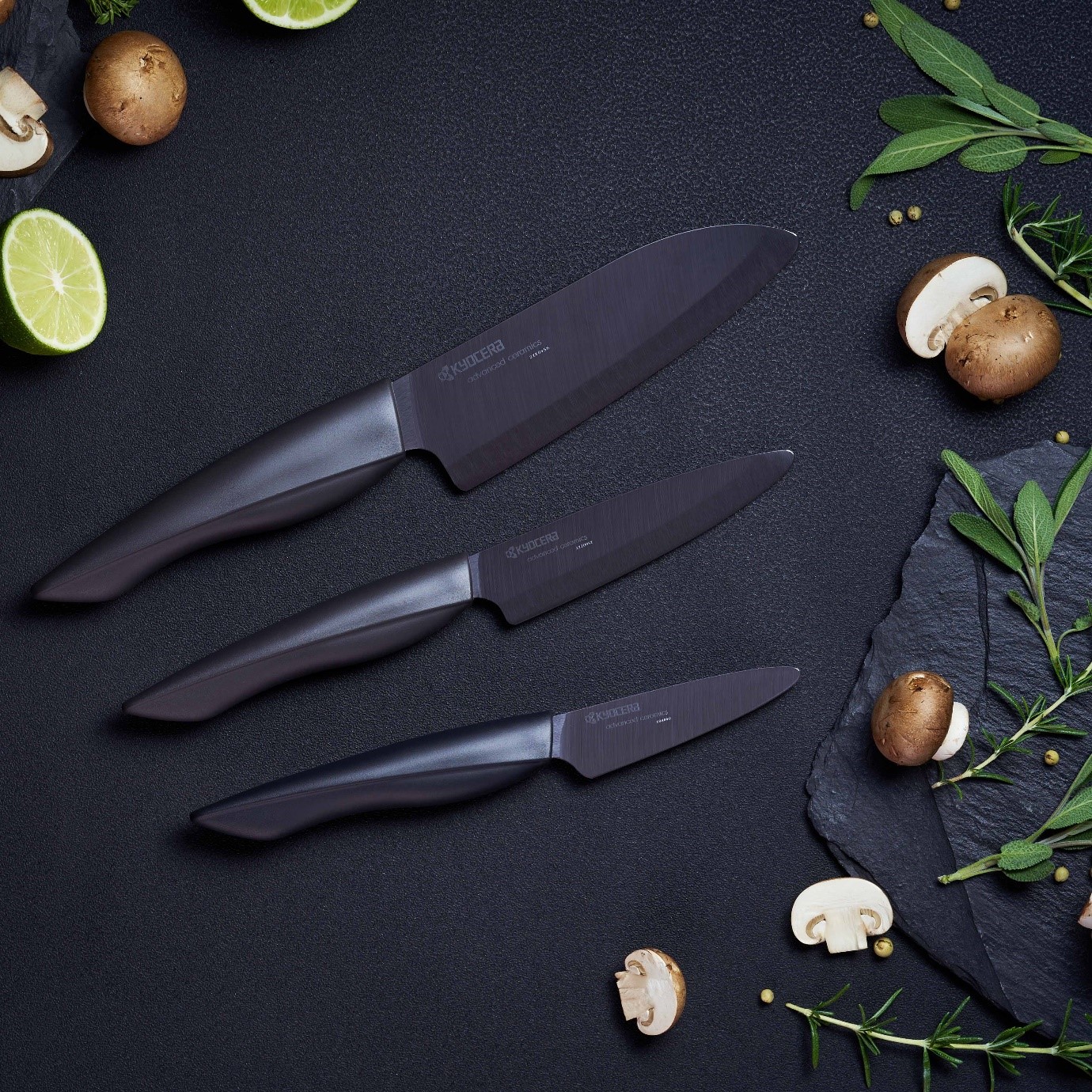 Latest patented product "INNOVATIONblack®"
US10118302 B2
Filed on May 25, 2016