Kyocera Announces 34th Patent for Ceramic Knife Technology, Reinforcing Status as a Leading Brand of Kitchen Knives
2 November 2022
Corporate
Kitchen Cutlery & Office Products
San Diego, Calif., November 1, 2022 - Kyocera Corporation (hereinafter, "Kyocera") today announced its 34th patent for proprietary ceramic knife technology, reinforcing its position as an industry leader in ceramic kitchen knives. Earlier Kyocera patents, dating back to the 1980s, covered a method of sharpening the blades of ceramic cutting tools, which became a driving force for mass production. Today, Kyocera's newest patented ceramic knife, INNOVATIONblack®, has been proven to maintain razor-like sharpness twice as long as traditional ceramic knives.* The first to use a new fusion of ceramic materials, INNOVATIONblack® represents more than 12 years of dedicated research and development (R&D) to master the proper composition and sintering of ceramic particles for superior performance and durability.
Kyocera upholds 1,600-year tradition with patented new materials and technologies
It is said that knives were introduced to Japan in the fourth century. In 794, Kyoto became Japan's capital, where culture, art, and crafts flourished — and local resources like iron, whetstones, charcoal and water made the region a natural location for making knives. Kyoto soon thrived as a blacksmith town and became known throughout Japan as a significant source of cutlery.
Fast forward to 1959: Kyocera was founded in Kyoto as a pioneer in the field of advanced ceramics (Kyocera = "Kyoto" + "ceramics"). Today, Kyocera is the world's leading manufacturer of innovative Fine Ceramic products and components used in everything from mobile devices and space vehicles to artificial hip joints and, of course, ceramic cutlery and kitchen tools.
Inspired by Kyoto's DNA, which nurtured the culture and technology of cutlery, Kyocera focused on the superior material properties of engineered ceramics, such as extreme hardness, light weight, and corrosion resistance. The company began research and development on ceramic knives in the early 1980s. After much trial and error, including learning traditional blade sharpening techniques in Gifu, another famed Japanese cutlery center, Kyocera produced and sold its first ceramic knife in 1984. Subsequently, Kyocera became one of the first companies in the world to successfully mass-produce zirconia ceramic knives.
KYOCERA has been named among the "Top 100 Global Innovators" of 2022 by Philadelphia-based ClarivateTM, a global leader in providing trusted insights and analytics to accelerate the pace of innovation.

As a pioneer in ceramic cutlery, Kycoera has acquired 34 patents and utility models worldwide relating to the knives' reliability, uniqueness, technological prowess, and quality. These intellectual property (IP) regustrations have been secured from authorities in Japan, the United States, Europe and China. Today, Kyocera is a leading creator of ceramic knives and kitchen tools in the housewares industry.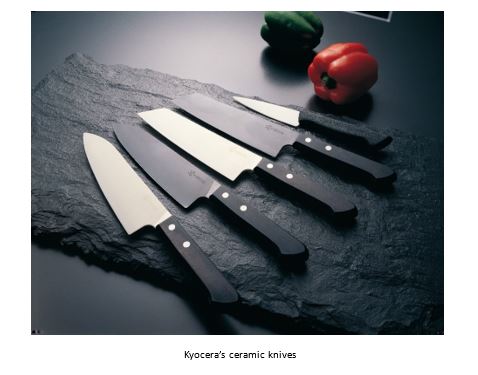 For example, JP 3905062, filed in Japan in 2003, disclosed a unique rounded geometry at the tip of a blade that enhances durability. The distinctive rounded tip design has been used to identify Kyocera's ceramic knives for many years. Kyocera's combination of two types of ceramic material with different hardness levels, protected by JP 6151878 (filed in Japan in 2015), creates blades that stay sharper 2x longer than traditional ceramic blades, while maintaining resistance to chipping. This ensures the high quality of Kyocera's current top-line cutlery, the INNOVATIONblack® series. Today, JP 6151878's invention is patented in Japan, Europe, China and the United States, including US 10118302 B2.
Not only does Kyocera have a long history and heritage in ceramic knife manufacturing, the company continues to develop new technologies to improve performance and the user experience (e.g., Pending PCT applications- WO2021187327 A1, WO2022210604 A1). In addition to patents and utility models, Kyocera has accumulated its own manufacturing technologies by producing knives in-house, continuing to offer made-in-Japan quality ceramic knives at a price that is widely affordable.
*Based on internal Kyocera testing
Kyocera Corporation (TOKYO:6971, https://global.kyocera.com/), the parent and global headquarters of the Kyocera Group, was founded in 1959 as a producer of fine ceramics (also known as "advanced ceramics"). By combining these engineered materials with metals and integrating them with other technologies, Kyocera has become a leading supplier of industrial and automotive components, semiconductor packages, electronic devices, smart energy systems, printers, copiers, and mobile phones. During the year ended March 31, 2022, the company's consolidated sales revenue totaled 1.8 trillion yen (approx. US$15.1 billion). Kyocera is ranked #665 on Forbes magazine's 2022 "Global 2000" list of the world's largest publicly traded companies, and has been named by The Wall Street Journal among "The World's 100 Most Sustainably Managed Companies."