Bob Whisler, Kyocera International Vice Chairman, Named Among San Diego's "Top 50" Influential Veteran Business Leaders
SAN DIEGO – Dec. 2, 2022 – The San Diego Business Journal, publishing the most complete package of business news and information on area industries and executives, has named Kyocera International, Inc. Vice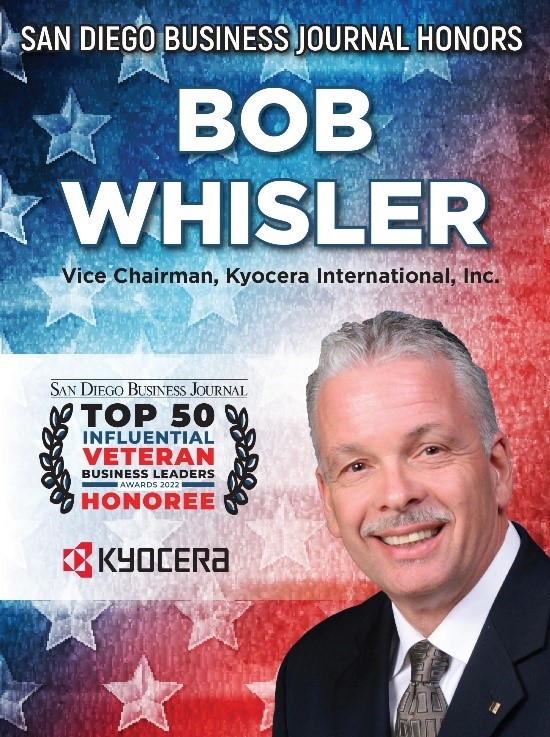 Chairman Bob Whisler among San Diego's "Top 50" influential veteran business leaders.
Whisler, a U.S. Navy veteran, rose from an entry-level sales position in 1981 to become president of both Kyocera America, Inc. and Kyocera Mexicana, S.A. de C.V. in 2000. Executive promotions later made him president of the U.S. parent company, Kyocera International, Inc. (in 2016), and Vice Chairman (in 2021). He has also served as Managing Executive Officer and Director of Kyocera Corporation, the group's global headquarters in Kyoto, Japan.
Whisler's leadership of Kyocera International, Inc. began in a period of prosperity soon shaken by trade friction, a global pandemic, supply disruptions and inflation. Fortunately, the company faced these challenges on a rock-solid foundation after a restructuring that Whisler led in his first 90 days at the helm — consolidating five wholly-owned subsidiaries into one stronger Kyocera company in North America.

Today, Kyocera's employment in San Diego County is higher than in 2016, pre-consolidation. The company celebrated an incredible 50 years of manufacturing in Kearny Mesa last year as North America's No.1 producer of ceramic packages for advanced semiconductor devices. Local Kyocera operations also market rugged wireless phones, industrial ceramics, automotive components, LCD displays, optical components, printing devices, medical components, ceramic consumer products, and office document solutions.

Whisler believes a strong manufacturing base is essential for America's future. Echoing the words of Kyocera's founder, the late Dr. Kazuo Inamori, Whisler made "Protect Production" the mandate of Kyocera sales teams. They have a unique legacy to protect: Kyocera was the first Japanese technology company with manufacturing operations in State of California (1971), and among the first to build a high-tech factory in Baja, Mexico (1987), anticipating the maquiladora boom.
During the COVID-19 pandemic, Whisler strengthened Kyocera's manufacturing support of U.S. critical infrastructure, from semiconductors and wireless communications to medical devices, through ceramic package manufacturing and semiconductor device assembly services in San Diego. As technologies continue to evolve, he is positioning the company for growth in such strategic areas as 5G communications, Internet of Things (IoT), Artificial Intelligence (AI), Augmented Reality (AR), smart vehicles, and aerospace markets.
After Navy service and a bachelor's degree in Business Management and Marketing from Washington State's Evergreen College, Whisler worked briefly in retail sales before joining Kyocera's Silicon Valley office. His early local colleagues and mentors at Kyocera included fellow Navy veterans Rodney N. Lanthorne, retired Vice Chairman, and William J. Edwards, retired E.V.P and Treasurer.
"Kyocera's support of U.S. technology companies helped enable the rise of Silicon Valley, and our capabilities continue to expand," Whisler stated. "Our world will be even more prosperous with digital technology in communications, biomedicine, smart vehicles and renewable energy."
In addition to collaborating with the world's leading semiconductor manufacturers, Whisler had the special good fortune of working under Kyocera founder Kazuo Inamori, a mentor in business and life. Inamori was named "Japan's Most Effective Manager" in two separate surveys before retiring in 1997 at age 65, and was named "Japan's Most Effective Corporate President" again at age 80 after leading the turnaround of Japan Airlines as an unpaid volunteer.