Ultra-Rugged Kyocera DuraXV Extreme + Flip Phone Designed for Business or Consumers Looking to Simplify
Reliable DuraXV Extreme+ for Verizon is PTT+ optimized with all-day battery and crystal-clear audio for first responders, hospitality, construction with non-camera option for industries requiring privacy
2 February 2023
Corporate
Smartphones & Feature Phones
San Diego - February 02, 2023 - Kyocera International Inc., the North American leader in rugged mobile solutions, added the DuraXV Extreme+ flip phone – without camera – to its lineup of military-grade rugged devices with Verizon. This device joins the standard DuraXV Extreme+, which was launched at the end of last year. Kyocera created DuraXV Extreme+ to help businesses cut costs and improve employee focus; the non-camera option is ideal for sensitive work environments and operations that can't allow cameras, as well as privacy-minded consumers and seniors who need a simple, loud device that can take some drops and spills.



"Retro" flip phones continue to have a resurgence in popularity in part thanks to consumers looking to be more "present" in their social activities or taking part in digital detox. In fact, #bringbackflipphones has seen more than 25 million social media views on TikTok.

With an ergonomic, compact design, the new and improved DuraXV Extreme+ delivers enhanced features with the durable reliability Kyocera has perfected over 10+ years. The first flip feature phone to feature a 2GHz smartphone processor (MediaTek 6761 Helio A22, 3- Core), Extreme+ has a quicker response time when running apps. Additional new features include barometric pressure sensor supporting FCC Z-Axis / E911; Wi-Fi 802.11ac support for faster data transfer speed and Wi-Fi calling with HD Voice; Bluetooth 5.1 LE/EDR support for extended connection range and improved power efficiency; and a remote support preload application for secure, enhanced live technical support.

Built for dependable communication in rough working conditions with an all-day replaceable battery, Kyocera's powerhouse flip phone provides MIL-STD 810H and IP68 waterproof+ protection making it ideal for construction, government, hospitality and healthcare. The one-button push-to-talk design keeps workers connected even in the busiest – and noisiest – environments. The non-camera version is ideal for sensitive work environments where cameras are restricted like government buildings, courthouse, military bases, pharmaceutical businesses, and entertainment venues. Its compact design and ease of use also makes it a great choice for seniors and individuals with disabilities.

The compact, easy-to-use feature phone is drop proof up to five feet onto concrete, dust proof, and certified Non-incendive Class I Div 2 for protection in hazardous environments. It can withstand shock, vibration, temperature extremes, blowing rain, low pressure, solar radiation, salt fog, humidity, freeze-thaw and ice/freezing rain. And, it can be washed using a mild dish cleaner and disinfected using alcohol (70% solution) or cleaning wipes. The simple design features a silver bezel around the outer display and a bright orange customizable side button as well as a large tactile keypad. All of Kyocera's devices are backed by a standard
two-year manufacturer's warranty.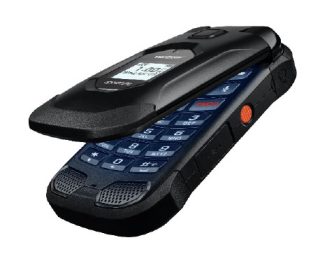 "DuraXV Extreme+ has our popular compact flip phone design, proven rugged reliability with next generation specs at an affordable price," said Vipul Dalal, divisional VP of Kyocera's Communications Equipment Group. "The non-camera option is often requested by businesses and privacy-minded consumers looking for a second phone option. Camera or no camera, with rugged durability built in, Extreme+ delivers in harsh business environments, in an emergency or on the ski slopes."

Kyocera has created a "Total Solution" ecosystem of accessories
and solutions for enterprise. When combined with Kyocera's
two-year warranty and the option for either a camera or non-
camera device, Extreme+ is the ideal feature phone for budget-
conscious businesses, privacy-minded government entities as well as seniors and consumers looking to
simplify. For more information and detailed device specifications, please visit
https://kyoceramobile.com/duraxv-extreme-plus/.

+IP68 dust proof and waterproof for water immersion up to 6.5 feet for up to 30 minutes.
*Subscription required for mobile hotspot, MDM, SOS and PTT+.

About Kyocera
Kyocera International Inc.'s Communications Equipment Group (CEG) is the headquarters for Kyocera wireless devices in the Americas. With a history of quality and innovation delivering many "firsts" to the U.S. market, Kyocera is the leader in rugged mobile solutions. Launching more than 100 waterproof and rugged mobile devices globally over the last 10+ years, Kyocera strives to offer rugged, reliable technology as an integral part of a total mobile offering: combining MIL-STD 810G/H-compliant ruggedization and enterprise-grade security with a partner ecosystem, industry-specific applications and innovative accessories. Working with leading service providers, Kyocera has created a "Total Solution" offering that helps deliver a significantly lower total cost of ownership to a wide range of industries such as public safety, transportation, and construction. White glove services including overnight advanced replacement, custom provisioning, repair and more, help improve productivity for business customers. When it comes to blending performance, durability and support, Kyocera's rugged mobile solutions are in a class of their own. For more information, visit kyoceramobile.com or follow the company at facebook.com/kyoceramobile, twitter.com/kyoceramobile, youtube.com/kyoceramobile, instagram.com/kyoceramobile and linkedin.com/company/kyoceramobile.

Kyocera Corporation (TOKYO: 6971, https://global.kyocera.com/), the parent and global headquarters of the Kyocera Group, was founded in 1959 as a producer of fine ceramics (also known as "advanced ceramics"). By combining these engineered materials with metals and integrating them with other technologies, Kyocera has become a leading supplier of industrial and automotive components, semiconductor packages, electronic devices, smart energy systems, printers, copiers, and mobile phones. During the year ended March 31, 2021, the company's consolidated sales revenue totaled 1.5 trillion yen (approx. US$13.8 billion). Kyocera is ranked #603 on Forbes magazine's 2021 "Global 2000" list of the world's largest publicly traded companies, and appears on The Wall Street Journal's latest list of "The World's 100 Most Sustainably Managed Companies."

© 2023 KYOCERA International, Inc. (KII)