KYOCERA Named Among "Top 100" Global Innovators for 7th Year by Clarivate
22 February 2023
Corporate
Semiconductor Components & Assembly Services
Kyocera Corporation (President: Hideo Tanimoto) announced today that it has been recognized as a Top 100 Global InnovatorTM 2023 by Clarivate, a global leader in connecting people and organizations to intelligence that transforms the world. This year marks Kyocera Corporation's seventh appearance on the list, including consecutive listings in 2022 and 2023.

Since 2012, Clarivate has selected top innovators annually using its unique methodology and IP database. The 2023 report is built on enriched data used by research leaders, scientists, engineers and their advisors daily to direct and guide their work: Derwent World Patents Index™ (DWPI™), Derwent Patent Citation Index™ and Web of Science™.

This year's list includes organizations from 12 countries and regions. Asia continues to extend its leadership in the global innovation ecosystem with 58 organizations, four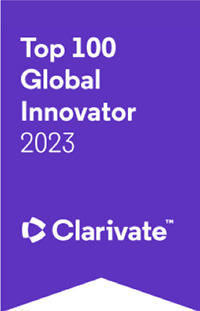 more than last year. Japan tops the list once again with 38 organizations. Outside of Asia, the United States is home to 19, while France and Germany have 7 each.
Kyocera's policy for intellectual property (IP) extends beyond protecting its own inventions. The company focuses on building businesses that create new value; licensing its own IP to expand its business; and maintaining deep respect for the IP rights of others. To keep up with market demands, Kyocera is aggressively expanding IP areas in hardware, software and services to meet the diverse needs of customers globally. The company works closely with patent firms worldwide to promote the establishment and recognition of IP rights, and to create business opportunities with other parties by disclosing some proprietary technologies publicly through its IP website.

"At Clarivate, we aim to bring clarity to the complex. Our focus is to pore over what humanity knows today and to put forward the insight that explores all possible horizons; that enables transition and transformation. We acknowledge the Top 100 Global Innovators 2023 - companies and organizations that know that innovative ideas and solutions to current challenges not only bring rewards to their businesses but foster genuine improvements in society," Clarivate stated.

Methodology
For the Top 100 Global Innovators, Clarivate uses a complete comparative analysis of global invention data to assess the strength of every patented idea, using measures tied directly to the idea's innovative power. The evaluation and selection are based on a twin track approach:

Track 1
Identify innovating organizations that meet certain qualification criteria based on volume, including:
1) More than 500 IP applications filed since 2000, and more than 100 granted inventions over the 5 -year window (2017-2021)
2) Compare innovators based on the proportion and size of international inventions (ideas patented in multiple countries or regions) and create an international factor

Track 2
Evaluate all inventions and score them on four factors: "Influence," "Success," "Globalization," and "Rarity." Add the international factor and determine the Top 100 Innovators.

About Clarivate
Clarivate is a leading global information services provider. We connect people and organizations to intelligence they can trust to transform their perspective, their work and our world. Our subscription and technology-based solutions are coupled with deep domain expertise and cover the areas of Academia & Government, Life Sciences & Healthcare and Intellectual Property. For more information, please visit clarivate.com.