Books by Kyocera Founder Kazuo Inamori Exceed 25 Million Printed Copies Worldwide
Readers find unique insights on navigating life and business
Kyocera Corporation (President: Hideo Tanimoto, hereinafter "Kyocera") today announced that publications authored and co-authored by the late Dr. Kazuo Inamori, founder of Kyocera Corporation, now exceed 25 million printed copies worldwide.

Inamori's first book, "Elevate Your Mind and Expand Your Business," was published in 1989. His subsequent works include 55 publications authored, and 18 co-authored, with translations in 19 languages. Inamori's titles reached the 25-million-copies* milestone less than three years after reaching 20 million (in 2020). They crossed the 10 million threshold in 2015.

Since Inamori's passing in August 2022, his life, achievements and philosophy have attracted rising attention internationally.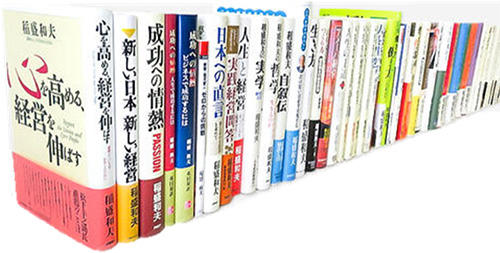 he majority of readers (71%) live outside Japan. Readership in China has been particularly strong, accounting for 93% of copies sold outside Japan, due to rising local interest in Inamori's philosophy. Translations are expanding in Korea, Vietnam, and other markets as well.



"A Compass to Fulfillment" has appeared in many languages

Inamori's books are not sold by Kyocera, but are available through select booksellers and online. Following are Inamori's five most popular books published in Japan and other nations:


(Unit: Millions)
Title (Year of Publication)
Total Prints
In Japan
Outside Japan
(China, U.S., etc.)
"A Compass to Fulfillment" (2004)
7.44
1.5
5.94
"Hatarakikata" or "The True Meaning of Work" (2009)
2.44
0.32
2.12
"Kokoro" or "Heart" (2019)
1.76
0.25
1.51
"Inamori Kazuo no Tetsugaku" or "Kazuo Inamori's Philosophy" (2001)
1.28
0.26
1.02
"Amoeba Management" (2006)
1.16
0.32
0.84

*As of March 2023

■ Inamori's Final Publication
The last book Inamori authored, titled "The Twelve Management Principles: Things to Pursue as a Business Leader," is now in the publication process in China and Vietnam, after the publication in Korea this April.


| | |
| --- | --- |
| Title | The Twelve Management Principles: Things to Pursue as a Business Leader |
| Date of Issue | September 6, 2022 |
| Publishing Firm | Nikkei BP |
| Price | JPY1,700 plus tax |