KYOCERA Awarded "Clean Industry" Certification by Mexico's Environmental Protection Agency
Tijuana plant reduced water consumption by 2.8 million gallons, greenhouse gas emissions by 265 tons; certification is its seventh consecutive PROFEPA honor
TIJUANA, MEXICO – June 6, 2023 - Kyocera Mexicana S.A. de C.V. today announced that it received Industria Limpia (Clean Industry) Certification from Mexico's Federal Environmental Protection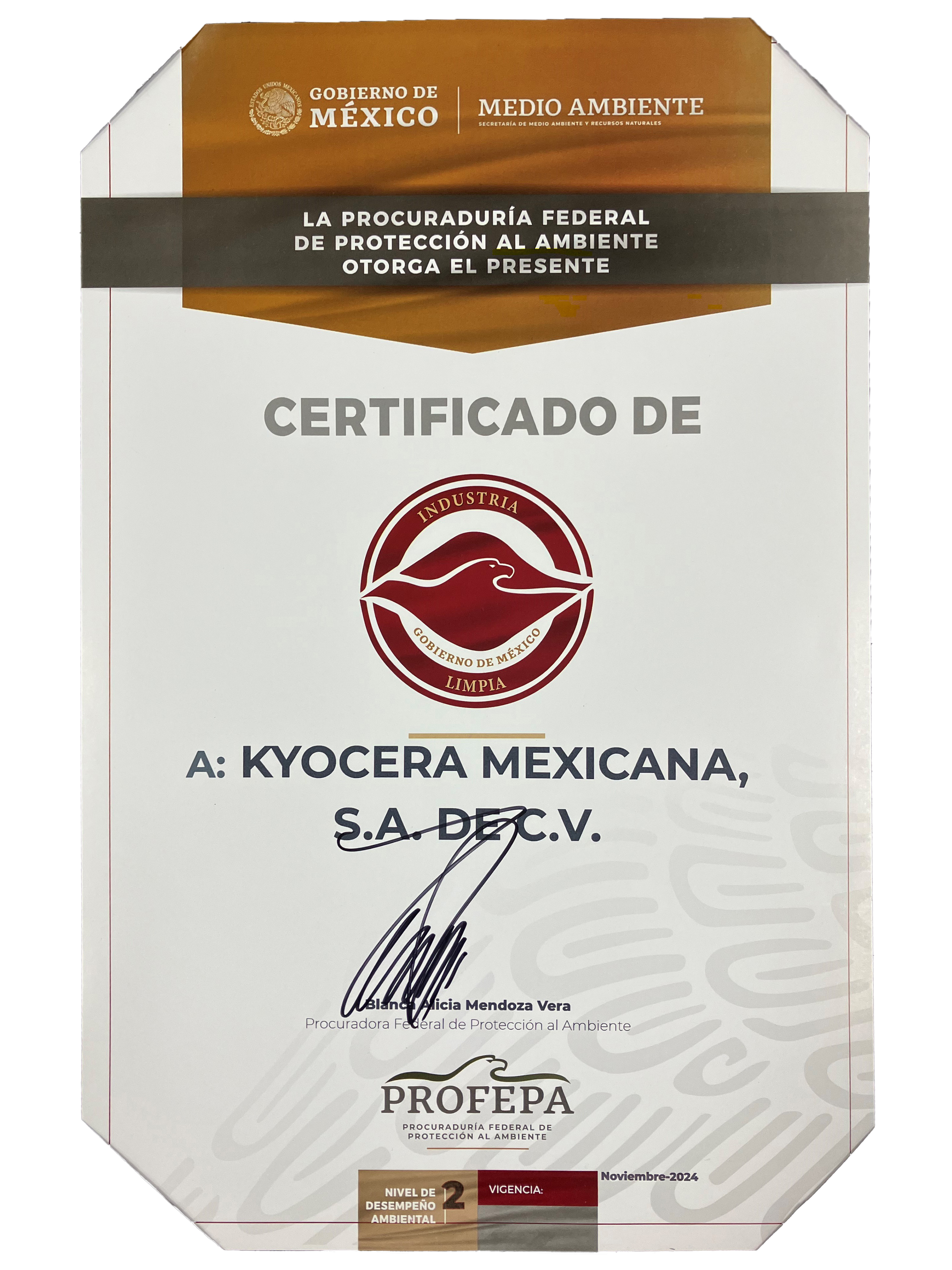 Agency, PROFEPA (Procuraduria Federal De Protection Al Ambiente). Kyocera's facilities in Tijuana conserved 2.8 million gallons of water during the reporting year, and reduced greenhouse gas emissions by 265 tons, through industrial efficiency and environmental protection efforts. The plant provides manufacturing and assembly services for clients including Kyocera's Semiconductor Components Group.
Out of approximately 2,000 companies operating in the Baja California region, only 60 received PROFEPA's Clean Industry certification this year.
PROFEPA verifies compliance with environmental legislation through inspections and audits of a company's internal environmental controls. Industria Limpia certification is issued at two-year intervals and the 2023 honor marks the seventh consecutive period for which Kyocera has been awarded this exceptional certification. The latest award reflects environmental reports and audits conducted in 2022 for environmental performance during calendar year 2021 in comparison with the prior year.
Kyocera regards environmental regulations as minimum standards and strives to maintain stricter controls than those legally mandated in its waste management, wastewater discharge and recycling practices. The company's Tijuana facility recycles approximately 92% of all standard waste materials; operates a 100kW solar array that offsets 415 tons of CO2 annually; and recycles clean process water for use in landscape irrigation.
Kyocera, named by The Wall Street Journal among "The World's 100 Most Sustainably Managed Companies," aims to become carbon-neutral by FY2051. The company's commitment to environmental preservation reflects the philosophy of its founder, the late Dr. Kazuo Inamori, and his belief that "people have no higher calling than to strive for the greater good of humankind and society." In 2022, the global Science-Based Targets Initiative (SBT) recognized Kyocera for adopting aggressive new environmental goals — including reducing greenhouse gas emissions 46%,* and increasing renewable energy adoption 20x,** by FY2031.
*compared to FY2020 levels. **compared to FY2014 levels.